Klokwork Team Console
Efficiently manage projects and resource assignments for your team in one location. Aggregate reporting provides analytic views and insights across resources and projects
Features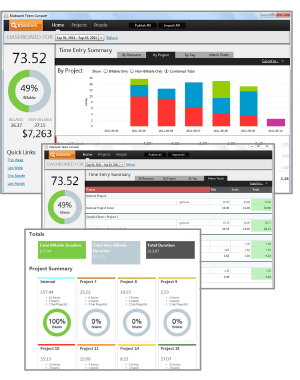 The Klokwork Team Console is designed for use by any organization or group that needs to have multiple Klok Pro Users track time against the same projects but don't need or want the ongoing costs of a hosted solution. The bullets below highlight product capabilities and notable features.
Unlimited number of Klok Pro users can track time against the same projects
Efficiently manage projects and resource assignments in one location
Flexible project hierarchies provide managers with the freedom to set up projects just the way they like
Aggregate reporting provides analytic views and insights across resources, projects and time entry tags
Ability for team members to work remotely
You own and manage all of your data
No hosting service or cloud storage
No servers to set up
The Klokwork Team Console is the central hub that enables Time Tracking Managers to efficiently create projects and manage time tracking assignments across their entire team.  Projects can be published to the team at any time without interrupting any 'in progress' time tracking entries.  Team members will only be able to view and track time against the team projects they've been assigned to, while still having the ability to track time against their own personal projects.