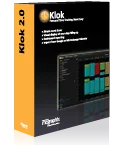 Klok Pro Desktop Application
Keep track of your time like never before by using Klok's familiar calendar-like display. And at only $19.99 USD how much lost time does it have to save to make up for its cost? Still not sure, download the free version by clicking "Install Now" below.
Install Klok Free Now
Please upgrade your Flash Player or download and install the AIR Runtime and Klok using the links below.
Trouble with the installer above?
Visual Display of Your Time
When you think about your day or week, does it feel like it is getting "filled-up" with work? We thought so too. That's why Klok shows your time entries as blocks that fill up your days very much like your calendaring application works. Most applications just let you enter the total time spent on a project per day in a spreadsheet view. The problem with that approach is that you potentially lose some valuable information. For example, if you or your staff spend four hours each on two separate projects within a day, it might be useful to know that the time was spent in 16 individual 30 minute entries as you toggled between projects numerous times throughout the day. By having this information, you can identify inefficiencies that might be totally lost if you didn't track this level of detail
Flexible Client/Project Structure
Do you organize your work by client? Do you have multiple projects for each client? Are they broken down into tasks? The way you think about the work you do is likely to slightly different than the way others think about it. For that reason, Klok allows you to set up your clients, projects and tasks (and sub-tasks and sub-sub-tasks etc.) just the way you like it.
Does your time tracking system require you to keep track of the time you spend throughout the week just so you can enter it into the time "tracking" system? With Klok you can avoid the unnecessary step of keeping track yourself. Simply start working on an item by dropping on the "Drop here to work on" area at the top of the screen (or right click a project or task and choose "Work on"). When you start working on something else the timer on the previous task will automatically stop and a new one will start. The time spent on the task will be added to your week view and show up when you view the dashboard or timesheet. You can also stop a timer manually using the stop button at the top of the screen. And don't worry… you can always adjust the times after if you need to.
Although entering your time throughout the week is not best handled by a spreadsheet, sometimes it is useful to view your entered data as a spreadsheet. For this purpose you can view and export a timesheet as a spreadsheet. Not only can you see a timesheet for your week, you can also choose any arbitrary date range to export.
Once you have tracked your time, it would be great if you could get paid for it. You can now generate invoices by opening a project in project view. In the bar at the top, select the "Invoice" button. From this screen you can select a date range for which you would like generate an invoice. All the time for the selected project and any child projects will be totaled up. There are several invoicing providers to choose from. You can generate a file for printing, or connect to Xero (www.xero.com) or Blinksale (www.blinksale.com). Once time has been invoiced it will not be included if you generate another invoice for the same time period.
Stay tuned as more invoicing providers are coming soon. If there are any providers you would like to suggest, please email us at sales@getklok.com.
Tracking a whole bunch of data is really only useful when it tells you something. Would it be useful to know that you spend more time on non-billable work on Mondays than any other day of the week? Or if billable work time has been steadily increasing over the last month? The Klok dashboard gives you access to this kind of data and more.
If you are like us you spend a bunch of time every week in meetings. Typically those meetings' times are stored in your Google or MS Outlook Calendar. We hate the idea of having to copy meeting times from your calendar and add them into your timesheet manually. So with Klok, you can automatically connect to your calendar and import those entries automatically. Then just select the ones you want to add to Klok and attach them to the appropriate project and you are done.