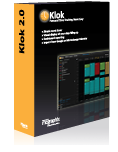 Klok Desktop Application
Keep track of your time like never before by using Klok's familiar calendar-like display. And at only $19.99 USD how much lost time does it have to save to make up for its cost? Still not sure, download the free version by clicking "Install Now" below.
Install Now
Please upgrade your Flash Player or download and install the AIR Runtime and Klok using the links to the right.
If Auto Installer above is not Enabled
Windows/Mac
NOTE: You will need to purchase a license key to unlock the full version
Having trouble with the installer above?
You can download Klok manually and double click the downloaded file to install. You will need to download and install the Adobe AIR runtime if don't have it already.


Related Products
Visual Display of Your Time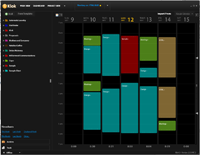 When you think about your day or week, does it feel like it is getting "filled-up" with work? We thought so too. That's why Klok shows your time entries as blocks that fill up your days very much like your calendaring application works. Most applications just let you enter the total time spent on a project per day in a spreadsheet view. The problem with that approach is that you potentially lose some valuable information. For example, if you or your staff spend four hours each on two separate projects within a day, it might be useful to know that the time was spent in 16 individual 30 minute entries as you toggled between projects numerous times throughout the day. By having this information, you can identify inefficiencies that might be totally lost if you didn't track this level of detail.
Flexible Client/Project Structure
Do you organize your work by client? Do you have multiple projects for each client? Are they broken down into tasks? The way you think about the work you do is likely to slightly different than the way others think about it. For that reason, Klok allows you to set up your clients, projects and tasks (and sub-tasks and sub-sub-tasks etc.) just the way you like it.
True Time Tracking

Does your time tracking system require you to keep track of the time you spend throughout the week just so you can enter it into the time "tracking" system? With Klok you can avoid the unnecessary step of keeping track yourself. Simply start working on an item by dropping on the "Drop here to work on" area at the top of the screen (or right click a project or task and choose "Work on"). When you start working on something else the timer on the previous task will automatically stop and a new one will start. The time spent on the task will be added to your week view and show up when you view the dashboard or timesheet. You can also stop a timer manually using the stop button at the top of the screen. And don't worry... you can always adjust the times after if you need to.
Timesheet Export
Although entering your time throughout the week is not best handled by a spreadsheet, sometimes it is useful to view your entered data as a spreadsheet. For this purpose you can view and export a timesheet as a spreadsheet. Not only can you see a timesheet for your week, you can also choose any arbitrary date range to export.
Generate Invoices
Once you have tracked your time, it would be great if you could get paid for it. You can now generate invoices by opening a project in project view. In the bar at the top, select the "Invoice" button. From this screen you can select a date range for which you would like generate an invoice. All the time for the selected project and any child projects will be totaled up. There are several invoicing providers to choose from. You can generate a file for printing, or connect to Xero (www.xero.com) or Blinksale (www.blinksale.com). Once time has been invoiced it will not be included if you generate another invoice for the same time period.
Stay tuned as more invoicing providers are coming soon. If there are any providers you would like to suggest, please email us at sales@getklok.com.
Dashboard Reporting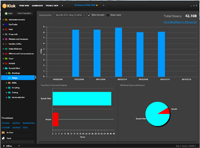 Tracking a whole bunch of data is really only useful when it tells you something. Would it be useful to know that you spend more time on non-billable work on Mondays than any other day of the week? Or if billable work time has been steadily increasing over the last month? The Klok dashboard gives you access to this kind of data and more.
Import Meetings

If you are like us you spend a bunch of time every week in meetings. Typically those meetings' times are stored in your Google or MS Outlook Calendar. We hate the idea of having to copy meeting times from your calendar and add them into your timesheet manually. So with Klok, you can automatically connect to your calendar and import those entries automatically. Then just select the ones you want to add to Klok and attach them to the appropriate project and you are done.
Getting Started with Klok 2
New to Klok? No problem. Here's a quick guide of what you'll need to be productive with Klok.
Create a Project...or two
Before you can track your time you will need to add some projects to track time against. To add projects you simply click the "Add" button. This will add a new project in the left column named [New Project].
To change project details double click on the [New Project], this will open the project summary tab screen where you can change the projects name and other attributes such as hourly rate for the project, estimated hours for the project and whether or not the project is billable.
On the properties tab you can change other attributes such as the projects color in week view, Project Code, Contact Name, Contact Email, Contact Phone if applicable. You can also create sub projects if needed.
Start Tracking Some Time
Now that you have added a project you can start tracking time against it. To start the timer for a project you can right click the project in the project list and choose "Work On" or you can drag the project name from the project list on the left to the "Drop here to work on" box at the top of the Klok window. Either of these actions will start a timer and you should now see an entry in the main week view section of the screen.
You may also drag a project name from the project name list on the left and drop it directly to the week view screen. This however, will not start a timer, but rather insert a "block" of time that you can then edit the start and end times if needed as well as add comments to that particular time entry.
Make Klok your own...
Set up Klok to work the way you want. Click "Tools" at the top of the screen and choose "Preferences" from the menu. From the preferences screen you can specify the location in which to store your data, the format of dates and times, the first day of your work week and more.
What to do with the data...
Once you have some time entered against some projecs you can view several time sheet reports. To view the reports you can simply click the applicable link in the bottom left hand side under the project list.
Each link will bring up a window with the selected data where you can view or export it to and Excel spreadsheet by dragging the Excel icon directly to your desktop or other folder location.
What else can I do with Klok?
There are many other features of Klok but the above quick start quide should get you started. Please check back additional documenation and other tips and tricks.
Frequently Asked Questions
How do I buy a license?
You can purchase a license from our online store. Secure payment processing is handled via PayPal but you do not need a PayPal account to purchase.
Where can I download it?
You can install Klok by clicking the "Install Now" button on the right of the main Klok page. In order to use the advanced features of Klok you must enter your license key (which will be emailed to you when you confirm your purchase) on the Tools > Preferences > General screen.
Where is my data stored? How can I back it up?
The data for Klok is stored in a file called klok.db. The default location of this file is at the following location but you can change that on Tools > Preferences > General screen.
Windows XP: C:\Documents and Settings\[User Name]\Application Data\Klok2.DD7F2188B985C2439837C76B42A187050457E61B.1\Local Store
Windows Vista\7\8: C:\Users\[User Name]\AppData\Roaming\Klok2.DD7F2188B985C2439837C76B42A187050457E61B.1\Local Store
Mac OSX: user/Library/Preferences/Klok2.DD7F2188B985C2439837C76B42A187050457E61B.1/Local Store
Linux (Ubuntu): ~/.appdata/Klok2.DD7F2188B985C2439837C76B42A187050457E61B.1/Local Store
To backup your data, open the appropriate folder listed above or the folder you chose on the Preferences screen. Copy your klok.db data somewhere safe to back up. In the event of a problem, just copy that file back and start Klok and you will get your data back.
As you might have guessed, you could use this method to transfer your data between computers if you wanted to, essentially allowing you to "sync" multiple instances of Klok. we have even had several people say they use Dropbox to transfer data between computers. We have not tested this, so it is "unsupported" at this point.
Can I connect Klok to my existing time tracking system?
The full version of Klok includes the ability to install connector plugins for various popular time tracking systems. Also, the Klokwork Team Connector is available for free that gives developers the ability to integrate it with existing time tracking systems.
Does Klok communicate back to the internet? If so why?
There are only four ways that Klok communcates back to getklok.com.
When you activate your license
When checking for updates
When you click a link from the About menu or click the links for information regarding the full version
When you open the free version, the dialog shown retrieves the current price for the full version
No personally identifiable information is passed with the request.
Occasionally, antivirus software may prevent applications from making calls without permission. Check the documentation with your security software for specific instructions for your system.
Why does Norton quarantine Klok 2?
A few users have indicated that Norton flags Klok as a potential security risk and quarantine's the application. Symantec has told us that the issue was the result of a false positive which has been corrected in recent updates. If you are seeing this problem, you may need to update to the latest version of the definitions from Symantec.
Where do I get support?
Please visit our support page for how-to videos, user guide, knowledge base and user forums. You may also email us at support@getklok.com
Comparison of Klok Free vs Pro
While Klok Free has many great features, the Full version adds many additional features. See the table below for a side by side comparison of our two current versions.
Feature
Klok Free 2.x
Klok Pro 2.x
Sync with Mobile Devices
Drag and Drop Time Entry
Simple Dashboard View
Enhanced Dashboard View
MS Exchange Import
Google Calendar Import
Third Party Connector Capable
Invoicing integration
Customizable Timesheet Layout
Export Timesheets to MS Excel
Export Timesheets as CSV and HTML
Export Timesheets to Google Docs
Automated Backups
Additional Klok "Faces" (skins)
Automatic update checking
Import data from previous versions
Priority Support
Download now


or use the installer above and to the right