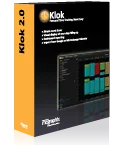 Your time is your product. Every minute you spend working that goes unaccounted for is like giving away your product for free. Tracking your time accurately is essential to staying profitable.
In addition, knowing how much time you spent on past projects, can allow you to better estimate future projects. Do you know how much time you spend in meetings? On the phone? Promoting yourself? Making sales calls?
Keep track of anything with Klok's simple work timer and visual display of how your days "fill up". 


Save Up To 20% Per License With Multi User Packs
| Quantity | Discount |
| --- | --- |
| | $18.99 Each ($1 Discount per license) |
| | $17.99 Each ($2 Discount per license) |
| | $15.99 Each ($4 Discount per license) |
| | Contact us for volume discounts |
The Klokwork Team Connector  allows you to setup your project lists and share them among your entire team. Each team member can submit timesheet data to a centralized location for further reporting. Using this connector, you can integrate Klok with the Klokwork Team Console or even your own existing time tracking system.

Connect Klok to Popular Time Tracking Systems